Tally Release Notes
Quick counting, scorekeeping, and habit tracking app
6.0.1
Widgets have new background configuration option to disable gradient.
Editing issue
6.0
Additional app icon options.
Additional sound set option with a bell-like feel.
5.1
Return of an optional list view on Apple Watch. Scroll to the end of the tally set to toggle views.
Bug fixes for a few sync issues, and editing/saving change issues.
5.0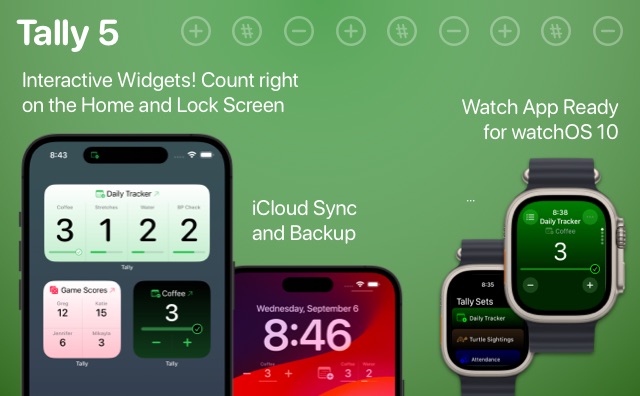 Interactive widgets bring counting to the Home and Lock Screen.
Redesigned Apple Watch app.
iCloud sync and backup.
Requires iOS 17 and watchOS 10 or greater
4.6
Improvements to Apple Watch app, included haptics.
Fix for issue opening exported .tallySet file from the Files app on iOS.
Option to copy link for tally set.
Misc. minor fixes.
4.5
Apple Watch App
Tally is back on Apple Watch with a companion app which allows you keep up with tallies right on your wrist. Configure tally sets to make available on Apple Watch using the iPhone. Once configured, these tally sets will sync to Apple Watch and all
Apple Watch support requires Tally Pro
Other Changes and Updates
Redesigned widgets.
Assign custom accent colors for each tally set.
Automated periodic backups to iCloud. See settings > backup for options.